Best dash cams, a buyers guide

We take a look at the best dash cams on the market right now at each price point, so whether you're looking to purchase your first dash cam or upgrade your existing camera - we've got you covered.
Our pick of the best dash cams
1.

Nextbase 622GW

The Nextbase 622GW comes with an abundance of features, though also comes with a heftier price tag than some it's competitors.
4K video recording means that your videos will be crystal clear with unmatchable detail. The Hyper-Sync Wi-Fi 5GHz allow video transfer at up to 10x faster speeds than any other dash cam.
If you are simply looking for the best dash cam regardless of price - the Nextbase 622GW is simply unbeatable.
| | |
| --- | --- |
| Video Quality | 4K @ 30 frames per second, or 1080p HD @ 120 frames per second |
| Viewing Angle | 140° |
| Touch Screen | Yes, 3 inch |
| Night Vision | Yes |
| GPS | Yes |
| Wifi | Yes, 5GHz |
| Bluetooth | Yes |
| Parking Mode | Yes |
2.

Nextbase 522GW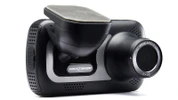 The Nextbase 522GW offers a remarkable suite of features at a great price. The wifi support enables video transfers to other devices at speeds not possible with just bluetooth.
With the addition of Alexa voice command support and a polarising filter to eliminate windscreen glare from your recordings, it's obvious why the Nextbase 522GW is our top dash cam choice.
| | |
| --- | --- |
| Video Quality | 2560x1440 (Quad HD or 2K) @ 30 frames per second, or 1920x1080 (HD) @ 60 frames per second |
| Viewing Angle | 140° |
| Touch Screen | Yes, 3 inch |
| Night Vision | Yes |
| GPS | Yes |
| Wifi | Yes |
| Bluetooth | Yes |
| Parking Mode | Yes |
3.

Garmin Dashcam Mini 2

The Garmin dash cam Mini 2 is a sleek, discreet dash cam that packs a punch.
The dash cam saves all recordings automatically in the Garmin Vault and are accessible via the Garmin Drive mobile app.
Although this dash cam does not have a screen to live view or view previous recordings, you can enable live view via a connected, compatible smart phone.
| | |
| --- | --- |
| Video Quality | 1080p HD |
| Viewing Angle | 140° |
| Touch Screen | No |
| Night Vision | Yes |
| GPS | Yes |
| Wifi | Yes |
| Bluetooth | Yes |
| Parking Mode | Yes |
4.

CHORTAU Dash Cam

The CHORTAU dash cam is an outstanding piece of kit for the cost conscious buyer. It even comes with a rear camera to record both in-front and behind your vehicle simultaneously.
Unlike some of the more expensive dash cams, videos recorded with the CHORTAU dash cam can only be transferred via a micro SD card.
| | |
| --- | --- |
| Video Quality | 1080p HD |
| Viewing Angle | 170° |
| Touch Screen | No |
| Night Vision | Yes |
| GPS | No |
| Wifi | No |
| Bluetooth | No |
| Parking Mode | Yes |
What is a dash cam?
Dash cam is short for dashboard camera. They are small camera devices designed to be mounted either to your vehicle's windshield or dashboard surface.
Over the past few years, their popularity has risen significantly thanks to their ease of use and the recorded footage being used as evidence to support insurance claims.
How does a dash cam work?
Most dash cams utilise a suction pad that allows them to stick to the windshield or dashboard. They can be powered by hard-wiring the device to the vehicle's electrical system or by simply plugging it into an available cigarette lighter socket (always check to ensure the device offers your preferred method before purchase).
Dash cams can be set to automatically switch on and start recording as the vehicle is started, which is great. You'll find that once it is installed and set-up, you'll never have to worry about it again.
The recorded footage is saved to either the dash cam's internal memory or to a memory card (check device support before purchase). As the storage fills up, the dash cam will automatically delete older footage to ensure there is enough space to save new footage. 
You can create backups of the footage at any time, either by plugging the dash cam or memory card into a computer and copying the video files, or by using the supporting mobile app for the dash cam, if the manufacturer has one available.
What are the benefits of using a dash cam?
A dash cam's biggest appeal is that your recorded footage can be used as evidence if you are ever involved in a road traffic accident, or are a witness to one.
Some insurers are also beginning to see the benefits to using a dash cam and are offering discounts to drivers that can prove that they have one installed in their vehicle.
As a driver, you are conscious that your dash cam is recording. This is likely to encourage you to drive safer and make better decisions.
Dash cam features explained
Video quality
If you are on a tight budget, it can be tempting to just buy the cheapest dash cam you can find. However, it is important to check that the video quality is up to standard. After all, you don't want to install a dash cam, then when you need to see or use the footage find that it is blurry or that you cannot make out other vehicles' registrations.
The higher end dash cams offer up to 4K video resolution, these will be crystal clear. Though, it is worth noting that these are not movies, and you won't be watching these for entertainment.
We recommend ensuring that the dash cam supports full-hd video recording (1080P).
Night vision
If you often find yourself driving at night, it could be worth your while to ensure that your desired dash cam supports night vision. Night vision recording is usually in black and white, but is far better than just a dark video with headlight glare.
GPS
Dash cams that are equipped with GPS allow you to track both speed and location based data. In essence, it will plot your journey on a map, along with the speeds that you were travelling. This is a crucial feature if you intend to use the footage for insurance claims.
The tracked speed data may also help in speeding offences claims. 
Viewing angle
Most dash cams feature a viewing angle between 120 and 180 degrees. The larger it's viewing angle, the wider shot of the road it will record - and the higher the chance that it will capture an incident.
Stationary mode (also known as parking mode)
Stationary mode on a dash cam means that it will enter a standby mode when your vehicle is parked. However, if motion is detected, it will automatically switch back on and record until everything is still again.
Written by Raymond Burrett
Raymond is the quintessential car enthusiast. Motorsports and sports-cars have played a prominent role since a young age. He can now be found tinkering with his Japanese sports cars, at local car meets or out on a track-day.